Invisalign
If you do not like the traditional method of orthodontics, we offer another solution to achieve straighter teeth called Invisalign®. Thanks to this clear tray method, you do not see any metal, making it almost impossible for anyone to even know your child is wearing braces.
Invisalign is worn all day and night but can be easily removed when you eat and brush your teeth, making them a much more practical solution than traditional braces. Providing Invisalign to patients of all ages, we are proud to help you achieve the smile you wish for, using a method you are comfortable with.
How it Invisalign works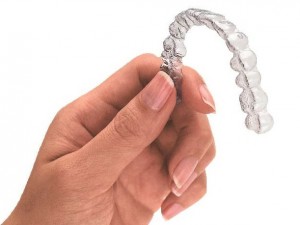 When you come into our offices, we will take a 3D scan of your child's teeth. These scans are models that allow us to create a custom treatment plan, designing a series of clear braces that will be worn and exchanged every two weeks. While using your Invisalign, you will come into our office to ensure that your teeth are moving into the proper position, fixing the oral tissues you may have had. Because your trays and plan are designed for your specific needs, we ask that you come in to see us so we can ensure your Invisalign trays are efficiently working the way we planned.
Invisalign is a wonderful way to straighten teeth or make room for overcrowding, and it is virtually impossible to see. Although it varies from child to child, many patients wear their Invisalign for just two years.
 If you think that Invisalign may be right for your child, contact us today. We are more than happy to meet with you.
Added benefits over traditional braces
Both traditional braces and Invisalign® will treat a broad assortment of cases that include under-bits, over-bites, crossbites, spacing issues, and teeth crowding. The best thing about Invisalign® is the product is essentially invisiable to the naked eye and easily transportable anywhere in the world. This fosters improved oral health and more enjoyable meals.
Benefits Comparison:
| | | |
| --- | --- | --- |
| Comparison Chart | Invisalign | Braces |
| Effectvely treats crowding, spacing, crossbite, overbite, & underbite | | |
| Straightens your child's teeth | | |
| Allows your child to eat whatever foods they enjoy | | |
| Lets you remove the device whenever you want | | |
| Is a virtually invisible teeth straightening device | | |
| Allows your child to brush & floss teeth normally | | |
| Doesn't include metal that can cut your child's mouth & cheeks | | |
| Allows for less office visits (only every 6-8 weeks) | | |
 Frequently asked questions about Invisalign:
How long will I need to wear them?
Length of your Invisalign treatment depends on your specific needs. Cases treated in our office tend to last from 3 months to 24 months.
---
How long is each aligner worn before moving on to the next one?
Typically each aligner is worn for a period of two weeks. However each course is specific to the patient and therefore your doctor will outline a specific plan or cycle for you.
---
Is there a recommended age group for Invisalign?
Invisalign treatment is great for both kids and teens whose malocclusion is ideal for treatment. Other problems may exist with a patients bite that may require a more traditional orthodontic approach. Each patient should be evaluated on a case by case basis. Please feel free to contact us with any questions.
---
What is the cost difference in comparison to traditional braces?
Cost is typically comparable to traditional braces, but again since we are super awesome and an Invisalign® preferred provider our cost is much lower than other offices!